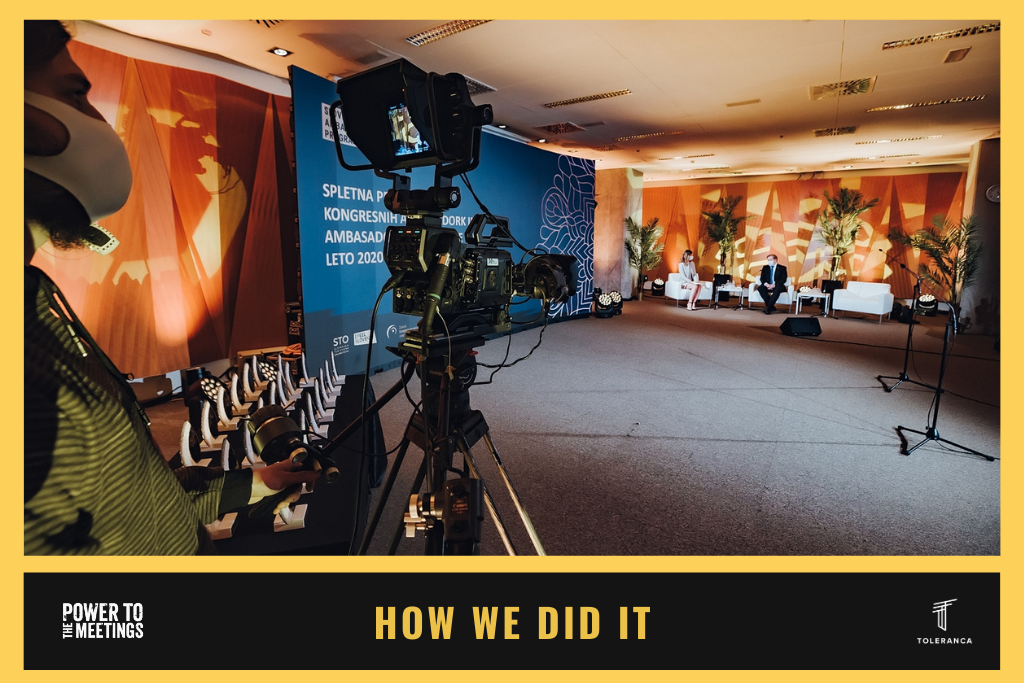 FRESH IDEAS FOR YOUR NEXT DIGITAL EVENT
TIPS AND BEST PRACTICES FOR DIGITAL EVENTS
The "less is more" rule certainly applies to digital events.

The formula for successful digital events has been mentioned on numerous occasions. In my opinion, the formula goes like this:
However, my colleagues ask me numerous questions related to organising digital events every day. Apparently, the gap between theory and applied practice is immense. Otherwise, anyone could organise any type of digital event with the minimum of help from Uncle Google. The reality, on the other hand, is learning from mistakes. Or as we like to put it, better to learn from someone else's mistakes than your own.
We have gathered some of the brightest ideas and recommendations to help you organise your next big digital event (online, hybrid or virtual). These tips all derive from our practical experience in organising digital events in the past few months.
Most importantly, we need to understand why someone attends a digital event. As Kongres Magazine's latest research shows, the key reasons are:
The content
Networking opportunities
High-profile speakers
New business opportunities
Perhaps even more fascinating are the reasons why some do not attend digital events:
Boring content
Too busy
Too many invitations
Tired of attending digital events
The above-mentioned reasons demonstrate why we should pay attention to every detail when organising digital events. As has been stressed numerous times already, a good digital event cannot be executed without a professional congress organiser (PCO) or a professional digital conference organiser (DCO).
The list below comprises practical realisations and mistakes, from which we have all learned.
STRUCTURE AND EVENT LENGTH
First and foremost, information for organisers regarding the length of an event needs to be emphasised. According to Kongres Magazine's research, the ideal days for events are Tuesday, Thursday and Friday. Based on the opinion of organisers, the best times for events are:
45.1% – 10 a.m. – noon
20.6% – 3 p.m. – 5 p.m.
16.7% – 1 p.m. – 3 p.m.
8.8% – 5 p.m. – 7 p.m.
6.9% – 7 a.m. –10 a.m.
2.0% – noon – 1 p.m.
TIMING OF ONLINE EVENTS
Based on practical experience, we have also concluded what the optimal timings of digital events are:
20′ maximum length of keynote presentations
10–20 ' optimal length of breaks
15′ maximum length for an online chat
60′ maximum length of a webinar
90′ maximum length of session with open discussion
45′ optimal length of a webinar
3–5 hrs/day maximal length of entire-day online events
EVENT INTRO
Analysis has shown that we lose most of the participants in the first five minutes. We must ensure a good start and properly warm up the audience. Everyone in the waiting room will be delighted if they are greeted by pleasant music. Moreover, videos are more than welcome. The first minutes are crucial, and if we fail to prepare a positive surprise, we might see unwelcome outcomes. Although participants will be at the event, they will probably be painting their nails or paying more attention to their house pets than to the event. The solutions are dramatic statistics, anecdotes, personal stories or experiences. In short, anything that would make you interested in an event.
LENGTH OF PRESENTATIONS – The old Pecha Kucha format 20 x 20
We conducted an analysis of the attention span of participants. In the ClickMeeting system, we closely monitored how long participants were actively following the presentation. The old Pecha Kucha format proved optimal, as participants on average follow a maximum of twenty slides for a maximum of ten minutes. After ten minutes, their concentration drops rapidly. Hence, you should adapt the length of your event and individual content segments accordingly.
PRESENTATION MANAGEMENT
Probably the most common and trivial situation which often gets complicated is sharing a presentation. Each video conference system is a story of its own. In our experience, almost every other speaker wishes to control their own presentation. I politely recommend that you check this before the event at the rehearsal. By doing so, you will prevent any unwanted surprises on the day of the event. Most importantly, never ever give the event host status to a speaker. If you do that, it can quickly lead to disaster and the end of an event. In our experience, almost every video conference system enables control of this area of a digital event.
ONE-WAY COMMUNICATION
Such communication simply needs to end, as it leads to catastrophic digital events. Digital events are not a TV broadcast. Participants hate being treated as if they are passive viewers; they expect conversations and active conversion. You have to decide what type of event you are organising. Even a broadcast or stream is acceptable if it suits the needs of your participants. Otherwise, there are several tools to establish two-way communication. Furthermore, a professional online moderator, working in unison with the technical moderator, is the path to success. These are the key characteristics of a good digital event.
PARTICIPANT ENGAGEMENT
For starters, my suggestion is to seriously and responsibly use all the services video conferencing systems offer. Most commonly, these are chat, whiteboard, survey, Q&A, and call to action, as well as other forms of engagement that include your participants in an event. Even more effective are breakout rooms, which offer excellent cooperation between participants. Nevertheless, we should not be excessive with their timing. Five minutes is the magic number for digital events. We have learned another rule through event organisation. Every ten minutes, something intriguing needs to occur for the participants. Some advocate the five-minute rule, but in our experience, having interaction every ten minutes will suffice. Hence, we recommend preparing a scenario where you foresee all of this.
DISTURBING ECHO
Echo is perhaps the most awful and unwanted situation that can occur. In our experience, participants should be provided with clear instructions on what can cause echo. This happens most often when multiple people are speaking in a webinar room and at least one of them is using loudspeakers in their hardware configuration. The simplest antidote is to mute all participants, although you can also write down a few helpful rules. The echo effect most often occurs when there are two event participants in the same room. It is recommendable to use only the video conferencing system and shut down all applications using sound during the event. These include TVs and other digital devices.
FOLLOW-UP
Another rule is of the utmost importance. Participants should be provided with promised presentations and videos as soon as possible. The best video conference systems have this option built-in, and with only a few clicks, you can send a presentation, videos or a confirmation of attendance. In this field, marketing automation has magical effects. If you forget about the follow-up, your event participants will be quick to forget about you.
---
Continue to follow our "How We Did It" stories, as we delve into "How to Attract Crowds to Your Digital Events" in our next article.